Linkletter Community Centre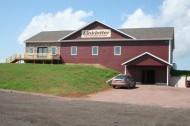 1670 Route 11
Linkletter, PE
C1N 4J8
communityoflinkletter@gmail.com
Hall Contacts
Kari Reynolds
902-724-0914
902-786-9979

http://communityoflinkletter.wordpress.com
Hall Description
The Community Center is open to bookings.
Weddings, Meetings, Parties, Concerts, – Consider us for your next event.
Our Main Hall, is large enough to host 125 guests.
Full Kitchen with or without Catering Services are available.
The cost to rent the hall is $25/hour to a max of $150 for a full day.
Inquire about special rates for Community Residents.
Our Center is Wheelchair Accessible
8FT tables and Chairs included in Rental
* No table or chair coverings provided
Projector and Screen available
The center is equipped with a Sound System including Microphones
Stage and Podium set up for speeches and concerts.
Bar services are available for an additional fee of $150
Upcoming Events
Feb 25, 2018
Flea Market
Every Sunday Morning 8am – 1pm Free Admission Looking to book a table – Call Kari 902-724-0914 or 902-786-9979 8Ft table for $10
---
Mar 4, 2018
Flea Market
Every Sunday Morning 8am – 1pm Free Admission Looking to book a table – Call Kari 902-724-0914 or 902-786-9979 8Ft table for $10
---
Mar 11, 2018
Flea Market
Every Sunday Morning 8am – 1pm Free Admission Looking to book a table – Call Kari 902-724-0914 or 902-786-9979 8Ft table for $10
---
Mar 18, 2018
Flea Market
Every Sunday Morning 8am – 1pm Free Admission Looking to book a table – Call Kari 902-724-0914 or 902-786-9979 8Ft table for $10
---
Mar 25, 2018
Flea Market
Every Sunday Morning 8am – 1pm Free Admission Looking to book a table – Call Kari 902-724-0914 or 902-786-9979 8Ft table for $10
---
Apr 1, 2018
Flea Market
Every Sunday Morning 8am – 1pm Free Admission Looking to book a table – Call Kari 902-724-0914 or 902-786-9979 8Ft table for $10
---
Apr 8, 2018
Flea Market
Every Sunday Morning 8am – 1pm Free Admission Looking to book a table – Call Kari 902-724-0914 or 902-786-9979 8Ft table for $10
---
Apr 15, 2018
Flea Market
Every Sunday Morning 8am – 1pm Free Admission Looking to book a table – Call Kari 902-724-0914 or 902-786-9979 8Ft table for $10
---
Apr 22, 2018
Flea Market
Every Sunday Morning 8am – 1pm Free Admission Looking to book a table – Call Kari 902-724-0914 or 902-786-9979 8Ft table for $10
---
Apr 29, 2018
Flea Market
Every Sunday Morning 8am – 1pm Free Admission Looking to book a table – Call Kari 902-724-0914 or 902-786-9979 8Ft table for $10
---
May 6, 2018
Flea Market
Every Sunday Morning 8am – 1pm Free Admission Looking to book a table – Call Kari 902-724-0914 or 902-786-9979 8Ft table for $10
---
May 13, 2018
Flea Market
Every Sunday Morning 8am – 1pm Free Admission Looking to book a table – Call Kari 902-724-0914 or 902-786-9979 8Ft table for $10
---
May 20, 2018
Flea Market
Every Sunday Morning 8am – 1pm Free Admission Looking to book a table – Call Kari 902-724-0914 or 902-786-9979 8Ft table for $10
---
May 27, 2018
Flea Market
Every Sunday Morning 8am – 1pm Free Admission Looking to book a table – Call Kari 902-724-0914 or 902-786-9979 8Ft table for $10
---
Jun 3, 2018
Flea Market
Every Sunday Morning 8am – 1pm Free Admission Looking to book a table – Call Kari 902-724-0914 or 902-786-9979 8Ft table for $10
---
Jun 10, 2018
Flea Market
Every Sunday Morning 8am – 1pm Free Admission Looking to book a table – Call Kari 902-724-0914 or 902-786-9979 8Ft table for $10
---
Jun 17, 2018
Flea Market
Every Sunday Morning 8am – 1pm Free Admission Looking to book a table – Call Kari 902-724-0914 or 902-786-9979 8Ft table for $10
---
Jun 24, 2018
Flea Market
Every Sunday Morning 8am – 1pm Free Admission Looking to book a table – Call Kari 902-724-0914 or 902-786-9979 8Ft table for $10
---
Jul 1, 2018
Flea Market
Every Sunday Morning 8am – 1pm Free Admission Looking to book a table – Call Kari 902-724-0914 or 902-786-9979 8Ft table for $10
---
Jul 8, 2018
Flea Market
Every Sunday Morning 8am – 1pm Free Admission Looking to book a table – Call Kari 902-724-0914 or 902-786-9979 8Ft table for $10
---
Jul 15, 2018
Flea Market
Every Sunday Morning 8am – 1pm Free Admission Looking to book a table – Call Kari 902-724-0914 or 902-786-9979 8Ft table for $10
---
Jul 22, 2018
Flea Market
Every Sunday Morning 8am – 1pm Free Admission Looking to book a table – Call Kari 902-724-0914 or 902-786-9979 8Ft table for $10
---
Jul 29, 2018
Flea Market
Every Sunday Morning 8am – 1pm Free Admission Looking to book a table – Call Kari 902-724-0914 or 902-786-9979 8Ft table for $10
---
Aug 5, 2018
Flea Market
Every Sunday Morning 8am – 1pm Free Admission Looking to book a table – Call Kari 902-724-0914 or 902-786-9979 8Ft table for $10
---
Click here for a full calendar of events
Accessible

Bar

Kitchen

Meal Services

Piano

Seasonal

Stage

Year-Round