St. Peter's Courthouse Theatre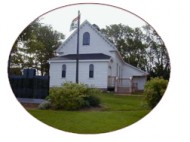 5697 St. Peter's Road
St. Peter's Bay, PE
C0A 2A0
wseibert@eastlink.ca
Hall Contacts
Will Seibert
(902) 961-3004
wseibert@eastlink.ca

Hall Description
St. Peters Bay Courthouse was built in 1874.
Throughout its history it served as a courthouse, schoolhouse and now it is a museum and theatre.
This year the St. Peter's Court House Theatre has planned an entertaining summer of performances. For those of you who have not visited the Theatre you should place it on your "thing to do on your list" for the summer. Years ago the theatre was a courthouse and a school. The St. Peter's Development Corporation decided to renovate the building and house a theatre and a museum. During the day (10:00 a.m. - 4:00 p.m.), the Court House Theatre has a museum, which depicts the rich history of St. Peter's. If you haven't learned enough about our area pick up a copy of the book "Gone to the Bay". St. Peter's has a successful history and we are proud of the community we are creating today. A new Festival is planned for July of this year. It will be entitled "The Frank Ledwell Storytelling and Comedy Festival". This will be an annual multiple day Festival at the St. Peter's Courthouse Theatre.
Kitchen

Piano

Seasonal

Stage

Year-Round