Emerald Community Centre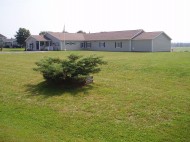 1910 Nodd Rd Box 8311
Emerald, PE
C0B 1M0
emeraldcc@bellaliant.com
Hall Contacts
Kent Croken
(902) 886-2400
(902) 886-2479
Fax: (902) 836-3129
emeraldcc@bellaliant.com

Lorraine Mulligan
(902) 886-2444
(902) 886-2479
Fax: (902) 836-3129
lorraine_mulligan@yahoo.ca

Hall Description
The Emerald Community Centre is home to the Boxcar Pub & Grill, which is open every Friday at 6pm, and is located in central PEI just 7 minutes east of Kensington off route 2.
The tastefully decorated Community Centre features an air conditioned banquet room, a cozy pub, two patios, full kitchen, boardroom, multi-purpose studio, wheelchair accessible washrooms and ample green space.
We offer many extras that will help create the perfect atmosphere for your next event like leather couches, fireplaces, big screen TVs and Sirius Satellite background music. We also feature a fully stocked kitchen and fully licenced bar and PA system if required.
The Emerald Community Centre is the perfect location for your wedding, anniversary, reunion, business meeting or any other special occasion.
Visit our website www.emeraldcommunitycentre.com
Kitchen

Piano

Stage

Year-Round